Why should you use a podcast RSS feed validator?
All the information about your show from its name, artwork, tags, to the episode audio, is available to distribution platforms via your podcast's RSS feed. To make sure there are no errors in your show's feed so platforms can use the information to publish your show, you should periodically 'validate' the RSS feed.
Validating your RSS feed will highlight any errors that could keep your show from being accepted and displayed in podcast directories and apps.
Which podcast feed validator should I use?
To validate your ZenCast RSS feed, we recommend using the Podbase Podcast Validator.
How do I validate my podcast's RSS feed?
Validating is easy and straightforward.
First of all, copy your RSS feed URL. If you're not sure how to find it, check out our guide here.
Then, go to the Podbase Podcast Validator and paste the URL into the field at the top of the page:

The validator will then populate the page with results about your RSS feed: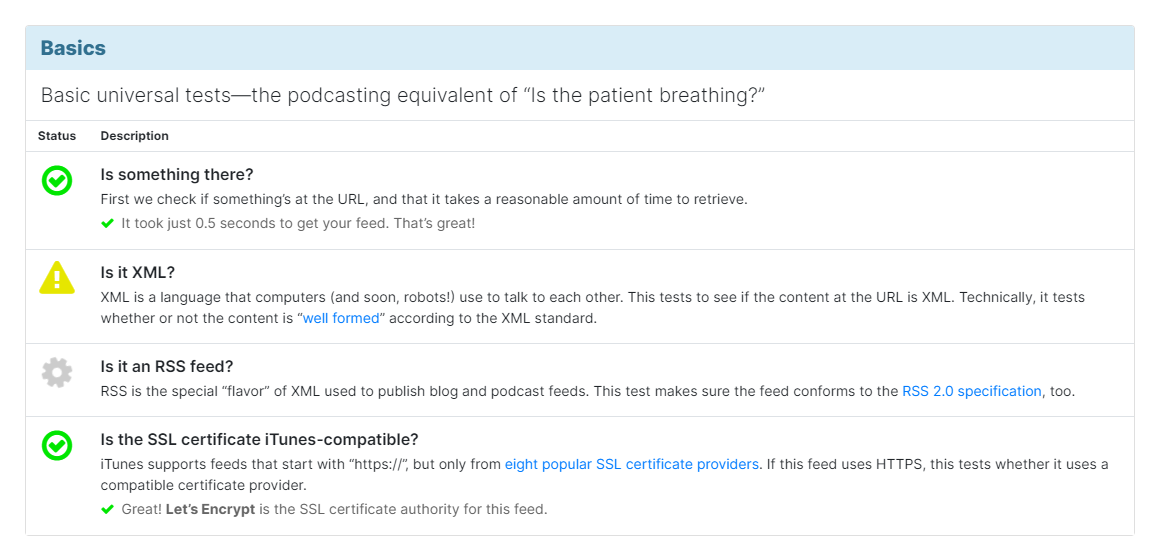 Anything other than green check marks is something to pay attention to.
If you don't understand how to fix any of the errors feel free to get in touch with us via the chat bubble, or email hello@zencast.fm