Your podcast audience is set when you create a new show on ZenCast, on the show creation page. Just look for this drop-down menu: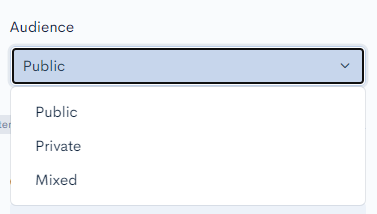 After show creation, you can also edit the audience later if you change your mind, under the "Show Settings" page:

Again, look for the drop down menu shown above.
---
There are 3 settings for your show's audience or visibility:
Public
Public podcasts can be listened to by anyone.


Private
Private podcasts can only be listened to by those given access (either with specific email addresses or via an invite link).


Mixed
Mixed audience podcasts can have both public and private episodes.
If the show audience is set to Private or Mixed you can add members and send a show invite link under the "Members" tab (this tab does not appear for a Public show).
If you have any questions feel free to get in touch with support via the chat bubble or email hello@zencast.fm